Online Map Creation using AZ_PROJ v1.1.7
Joe NA3T (EME B,D) and Michael NV3Z (EME B,D)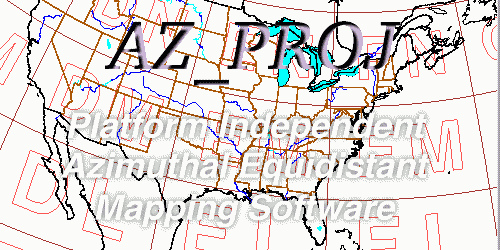 Latest News:

All's quiet.

Joe NA3T


This site is provided by Mark, WM7D in Reno, NV, USA.

NEW: Would you like to be a AZ_PROJ map server site ?

Joe last wasted time on this page on 08-Feb-2015, last server code upgrade 29-Oct-2017, running AZ_PROJ v1.1.7 21-Dec-2011 Changelog.

Fast Option: If you've been here before and know what to do, you can just go make a map using the short form or the long form

What's on the AZ_PROJ website
About AZ_PROJ
Presentations by NA3T
Sites using AZ_PROJ
for fun
Ham Humor: North Carolina phonetics and FleaSpeak
Where are people centering their maps? (The idea for these maps comes from a site whose URL I've lost).

The QTH information from the 25,000 maps drawn from Oct 98 to Feb 00 was used to construct the aggregate map for the whole world and a close up of NA and Europe. Notable hot spots are the Galapagos Islands and Aruba (popular sites for DX-peditions). The eastern half of USA draws a disproportionate number of maps relative to the US ham population. The large number of maps centered on Kyrgyzstan, relative to the ham population, are probably by people in the US who don't know whether they are east or west of Greenwich. A spot in the ocean SW of Baja California is probably Pratas Is, BV9 by the same people.
Thoughts on restructuring and where ham radio could be going.
What we can learn from analysing contest logs.
Possible reasons to do this are to

look for VHF propagation anomolies seen only when large number of people are on the air.
document the expansion of hams into new bands
determine the best grids for Rover and DX-peditions.

The ARRL's policy is to not release this information as it would enable less skilled hams to learn from contest winners. I am a past winner and I think this policy is not good for ham radio. Here is a log of my efforts to analyse the 40yrs of contest and VUCC data that we've paid our employees at the ARRL to collect for us.
Some historical perspectives on ham radio, including US licensing conditions.
US operator licensing requirements (Chapter 33 of the book The Art and Skill of Radio-Telegraphy by William G. Pierpont N0HFF. (thanks to N3QYE now WW4M)
Some US ham radio history, by W2XOY, originally on the now defunct Hudson Division website, http://www.hudson-loop.org/ is on the Wayback machine. Here's the timeline and the first 16 installments 1, 2, 3, 4, 5, 6, 7, 8, 9, 10, 11, 12, 13, 14, 15, 16. Supposedly 17,18 exist, but I haven't found them.
An image of the original What hath God Wraught message.
These links are dead. I'm looking for the original text.
http://www.radiolab.net/ab4rl/ AB4RL's page had a paragraph on restructuring. Even AB4RL doesn't have this article anymore. I've recovered most of the links from the Wayback machine.
http://www.knowcode.org/ KnowCode Int an argument for entry barriers to the ham license

Making a map here on the Server.
| | |
| --- | --- |
| | This server can generate a downloadable customised colored map using a subset of AZ_PROJ's features. Anything you can do here, you can do at home too (the server is running the same code). You can use the short form if you only want to change the scale and the location of the center of the map. Otherwise, you can fill out the long form to use all of the server's features (elevation, center offset, gridsquares, lat/lon lines, geographical features, greyline, compass, beacons/TV stations). |

info to make maps of ham density by gridsquare (sample from NE USA). For USA I used the FCC list of hams/addresses with zipcode and the US Govt list of lat/lon for each zipcode. If you know where I can get equivalent information for other countries for free, (or anything else that might be usefull here) please let me know.
Bugs

maps with lat=±90° crash the map generator. This really isn't a bug as there is no azimuthal equidistant map from these locations - all points are south or north. However people often try to make this map - it's only natural to wonder what the world looks like from the north and south pole. What they probably want is a map like the U.N. logo. I could do this, but I haven't got around to it yet.
Color Problems If the nighttime part of the globe animations are gray, rather than lightblue, (or you have blank spaces in this sentence) then here's an explanation.


Other Online Map Resources
Roger Hedin SM3GSJ has a Microsoft windows based azimuthal equidistant mapping program for hams which uses the same wdb database for the geographical information as this server.

The GARP Server is another az-equidistant map server. It has altitude (and ocean depth) information.

About the Azimuthal Equidistant Map Server
How to contact us
e-mail


About Joe NA3T: see my other webpage at Austintek.com

Joseph Mack NA3T (C) 1995-2014