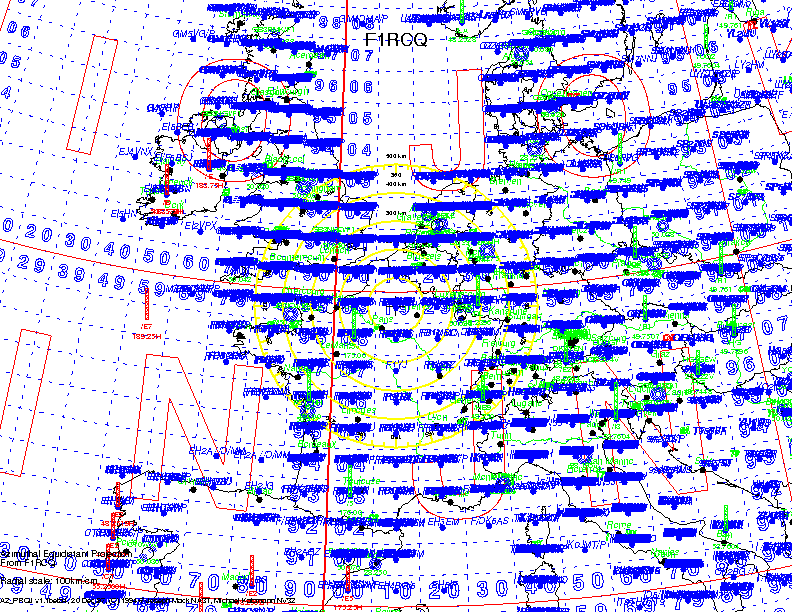 Clearly using 4 char gridlocators for your location doesn't work anymore. There are 41 operators in IO91. If you used 6char resolution you get 576 times more locators and most will have a unique location. When drawing QSO paths for an opening of 2850 contacts, where 16 operators where in EM79, as happened with this AU opening, all contacts will appear to come from one place in the center of the gridsquare. More of the paths will be unique if each ham is using 6char gridloactors.
While you can't use this 6m data to locate anyone, you can at least use it to produce density maps such as this one.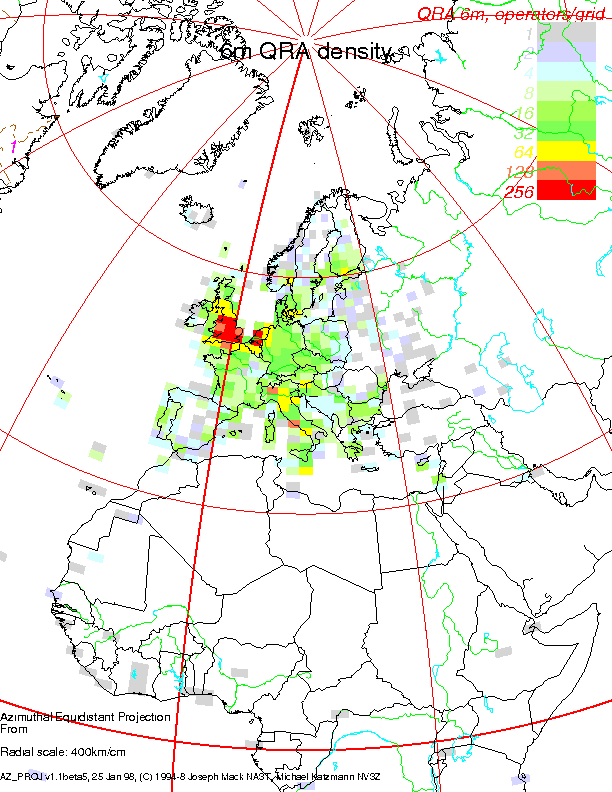 To validata a contact, hams exchange a piece of information unknown to the recipient. Samuel F. B. Morse for his first public demonstration of telegraphy, was required to receive the unknown piece of text "What God hath wraught". The gold standard for confirmation of the contact, neccessary for most awards, is the QSL card. This confirms the call, time, date, band, mode. Similar (cryptographic) exchanges occur while sending e-mail, logging onto computers and with secure e-commerce conducted by computer when the transaction involves parties who cannot directly check each other's identity. Such methods are used by businesses to cut costs and increase customers and has allowed the creation of businesses where none existed before (increasing the value of the US stock market 4-fold in the last 10yrs). While these methods were developed to use with computers in the '50's and deployed in suburban banks in the '60's, they entered homes in the '90's with the internet and now your mother and children can securely order merchandise on the internet. QSL cards can be exchanged and validated electronically (eg electronic QSL cards) using these familiar principles. For ARRL awards, QSLs are not accepted electronically. They are checked by methods that Hiram Percy Maxim would recognise.
For hams the callsign doesn't validate the contact, as much of ham callsign space is densely assigned. Almost any call will be valid whether it's the person you're contacting or not. For a contest, this extra piece of information is usually RST and/or gridsquare. The RST could be anything, so RST doesn't validate the contact either. The 4char gridsquare is a reasonable piece of information to exchange to validate a contact. While not unique, it is often unknown and we put some attention into getting right. A person analysing the contest can can look up the gridlocator later and compare it to the log entry. For the purposes of analysing a contest, the 6char gridlocator is more useful piece of information to exchange.
How good is the gridlocator as a validator of a QSO? With the state of the FCC database, not very good. From the 2850 contacts, 400 contacts made by 203 calls were from gridlocators that disagreed with the entry in both the callsign databases. It would appear then that 203 operators out of 718 (28%), with only at most 3 days notice, managed to get from their FCC address to their mountain top vacation home and be ready for operation. One of the more amazing get-aways I saw was by K9AKS, who managed to get from L.A. (his FCC address and e-mail address in Jul 2000) to his mountaintop in Moline, IL a distance of 2500km in 3 days, and be operational on 2 bands. I e-mailed K9AKS to ask him for any interesting stories about the trip. He said he'd been living in IL for a year, he'd updated his address with the FCC (license dated 17 Jun 1999, a year earlier) and had his e-mail in LA because the internet allowed him to have it anywhere he liked. The address for K9AKS in Jan 2001 at both qrz.com and wm7d.net is now correct. Even though these two servers are updated frequently (wm7d.net nightly), it would appear that they contain old data. With people moving every 2-5yrs and there being no real requirement that hams keep their FCC information current, and hams only having to update the FCC entry every 10yrs, it is no surprise that the FCC database is out of date. This situation would be fixed quickly if contest organisers subtracted points from hams whose FCC address has not been updated to their current home address.
What about the rest of the apparently invalid gridlocators? Some of the 203 calls were reported in multiple logs. These calls were
consistently in grids differing by 1 number eg FM03-FM04.
(people who are on the edge of a grid and don't know where they live? I gave out FM19 for my grid for a while, when I was actually inside FM18 by 100m.)
consistently in a grid unrelated to their database address eg DM03-EN41
(people who have moved and they don't want other hams or the FCC to know where they live, or the FCC hasn't updated their database).
active contesters from other countries (eg Canada, FP) for who we have no lat/lon information.
These countries have no Freedom of Information act and the citizens are required to pay a second time to obtain information (eg lat/lon for post-codes) that they've already paid with their taxes for their govt to collect. (These people: please add your gridlocator info to the callsign databases.)
calls not in the nightly updated FCC database
(KA5AR in EM06 who appeared in 3 logs - forgotten to renew?)
people operating elsewhere eg FP/N1JEZ in GN16 on a DX-pedition (1 call only).
So we know that at least 1 of these 203 calls is a bona-fide away-from-home operation and another has incorrect data, apparently in the FCC database.

Some of these calls (11) were seen consistently in the same gridsquare. Clearly someone who appears in several logs at the same gridlocator is real and being copied correctly, even if the FCC doesn't knows where he is.

There were 192 calls appearing once and not in their database gridsquare. In the (much larger) CQ HF contests, 80-85% of calls seen only once are bogus (data from W3ZZ). Presumably some of these 192 calls are real, giving an upper limit for invalid contacts of 28%.

In the subset of hams who sent in logs (111), the gridlocator of 9/111 (8%) could not be verified or was different to the gridlocator in the databases. If we assume that people who don't send in logs have the same interest in having verifiable locations as people who send in logs, then 8% of the 192 calls are real and the rest (177) are bogus calls. Thus 49% (177/361) of the singleton calls and 23% (177/748) of the calls are likely bogus. This means that 571 of the 748 calls seen are real.

Clearly it's a problem in a contest if 14% of the contacts and 28% of the callsigns can't be validated. The mechanism we have adopted for validating contacts in events like this (the gridlocator) doesn't work for 28% of the participants and 14% of the contacts. It would be helpful to people who need to validate logs for hams to check their addresses in the FCC database.

Another approach is to look at the duplicate versions of gridlocators for hams seen in many logs. W3ZZ was seen in FM19 (his gridsquare) 22 times and FM18 once. Results for other calls are: W4MYA 1/28; W3ZZ 1/22; W9VC 2/30; W9FX 0/25; K1TEO 0/20; K0KD 1/24; K4QI 1/31; K9AKS 1/21; W3EME 0/24; W3EP 0/21. This gives errors of 7/246 (3%). This is a minimum estimate, since presumably these well known calls were being worked in pileups, and the other station would have heard plenty of repeats of the gridlocator.

Some errors are easy to spot - eg callsigns where numbers replaced letters (K3Z0, VE31EY, AC4T0...). Likely confused calls are single appearances in the same grid as another often seen call, eg K1TEG for K1TEO; K5CA for K5CM; W5HUG for W5HUQ; K0BJ for W0BJ; N0IPR for N0IPL... FP/N1JEZ who was doing a DXpedition from GN16 on 6m was found in one log on 2m. These mistakes were found in 40 of the 110 logs. Other mistakes eg swapped letters would not be easy to spot.
Log Errors
40/111 logs had single errors in callsigns or gridlocators detected by inspection or crossreference with other logs.
2/111 logs were offset by more than 5mins and were correctable
200/700 worked hams were only worked once and weren't at their FCC locations (7% of contacts).
was it really aurora? not requested but only 2% of known Es contacts (from N1JEZ) were reported un-annotated in logs.
Conclusion: Between 3-14% of the contacts contain invalid information. We don't know how invalid the invalid information is, as our method for checking the validity (the gridlocator) is not functional. While having a wrong callsign wrong may not be a big deal when the grid is correct, having a wrong gridsquare is a big deal, as in the case of the 1000km K4EA-K9AKS contact which looked like a 3000km contact. It is thus possible that 10% or so of the QSO paths in the latter maps are wrong. Presumably most of them won't be seriously wrong and hopefully extra long paths in the wrong location will be spotted by inspection of path plots.

(C) Joseph Mack 2000-2002, Joe NA3T, jmack (at) wm7d (dot) net, http://www.wm7d.net/azproj.shtml