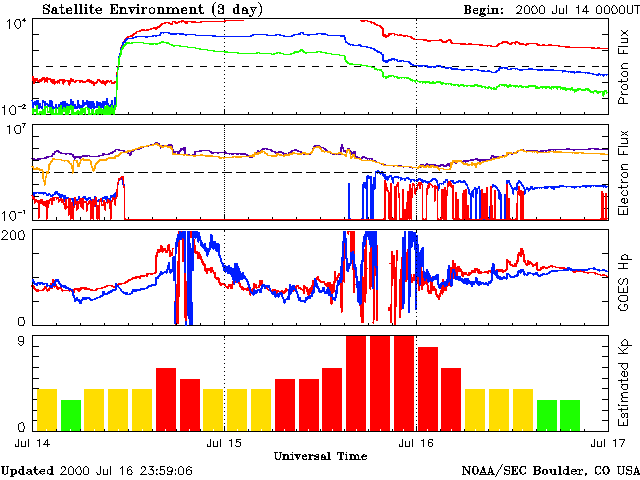 Operating on AU (from discussions with W3ZZ)
Some people indicated to me that they had trouble with the doppler. Since AU events are rare, you don't want to use them as learning experiences, if you possibly can avoid it. To help new people, I asked W3ZZ how he does it. The info here is empirical. Such information tends to be geographically specific. Gene W3ZZ lives in Maryland, eastern USA at a magnetic latitude of 50°N.

Unlike directly copied signals, AU signals are incoherently reflected from the auroral curtain (the received signal is phase modulated by noise, spreading the signal by 100-1000Hz). On CW the received signal will not be a tone, but a white noise "psssh psssh". The phase modulation makes (relatively) wide signals like SSB harder to copy than CW. The spreading is frequency dependant: On 6m, PH is still easy to copy; on 2m it still can be copied; but by 220MHz, narrow band methods like CW are the only way to go. The amount of spreading varies with the auroras. Some reflect with little spreading (when CW signal have "tone") while others produce more spreading (when CW signals sound like "psssh" "psssh" and have "no tone"). Some signals sound like a buzz. Because of the spreading you can't use a crystal filter, but you still use the b.f.o. At higher frequencies (>=432MHz), as signals get broader and weaker, the received CW signal will appear as pumping of the noise floor of your system.

The auroral curtain is moving and will doppler shift the returned signal. The doppler shift is also frequency dependant: at 6m it's 500-1000Hz, while at 432MHz it's upto 5KHz. If you are hearing a QSO in progress and you can hear the closest operator direct, you can zero beat on that signal and when it's your turn, call the distant station by aurora. If you are replying to a CQ, you don't know how much he's been doppler shifted, you have to figure out the frequency to reply. With EME this is easy, the velocity of the moon is known. With AU you don't know whether to reply lower or higher - you may have to try both. See below for details of each band.

Here's a site with aurora audio from this opening (look for the 2m link), and http://home.sprintmail.com/~mabu/new/Publish/WAV.html, W1FIG's audio files (look under the Aurora heading) (link dead, Jun 2003).

The auroral curtain is also an irregular, moving, vertical surface. A QSO can be composed of reflections from several parts of the curtain, all of which can have different reflecting properties. By moving your antenna, you may be able to find a reflection that has more tone on it and will be easier to copy (the frequency may be different for each peak). Since these reflection points come and go, to complete a QSO, you need an antenna broad enough (30-40°) to always have a reflecting point in the path. The narrow beams used in terrestrial or EME contacts are no good here. 4 yagis in a box is too narrow; it would be better to mount the 4 yagis on a single mast under each other. High power (>>100W) is needed to continuously illuminate a large area of curtain with broad antennas, otherwise you'll loose contact and not complete your QSO. This problem becomes worse with higher frequency, as power is harder to generate and the aperature of yagis drops with the square of frequency for constant gain. The conventional wisdom is that AU has a threshhold of power, below which you just don't make it.

(Note from NA3T: Some people maintain that all you need in ham radio to have as much fun as the big boys is 10W clipped onto a coathanger in the closet: it's not true - missing out on contacts one after another is discouraging and not fun. Such advice will make you think that there's something wrong with you/your skill/your equipment, since clearly everyone else is getting contacts. When you go to the houses of these advice givers, you'll find multiple towers and KW amplifiers. They tell you to remember that ham radio is a hobby and to not let it interfere with your job, your studies and your family, and then turn around and write glowing articles in QST about Art Collins (and others), who made a career out of ham radio, and teenagers who spent all their time (and probably) money building contest equipment going on to leave ham radio and win Nobel prizes in physics. After hearing all this, you're ready for the one about winning not being important, and it's how you play that really counts. This is true only for you of course. They have the contest logs and aren't going to let you learn from them.)

So although the received signal may be strong, because of the doppler shift and the frequency spreading, it may be hard to find.

The aiming point on the curtain is at an altitude of 100km; you don't especially need high antennas (note from NA3T: although it will help if you want to hit the curtain 1100km away for maximum path length).

Since the QSO path is via the curtain, you aim at the curtain and not at the other QTH. As the K-index rises, the curtain moves away from the pole (south in the northern hemisphere). To contact the same QTH you'll have to move your antennas away from NE/NW to E-W (this will increase your distance as well). In circumstances when you can hear the other ham direct, you can differentiate an aurora with tone from the direct signal by the direction of the signal. You usually can't talk through a curtain, so in the unusual situation of a strong aurora, where the curtain is far south (over the northern US states), the Canadians can contact each other reflecting off the north side of the curtain and the Americans can talk to each other off the south side of the curtain, but the Canadians and Americans won't be able to talk to each other through the curtain.

Polarisation appears not to matter (at least horizontal works fine). I don't know if the curtain is specular like Es clouds, where a horizontally polarised wave is reflected as a horizontal wave. A vertical curtain doesn't neccessarily equate with vertical polarisation, which you might expect for the E-W paths, when the wave will have a low angle of incidence on the curtain. I'm not aware of any experiments with vertical polarisation.

Unlike EME, where on 432MHz (and higher) your antennas are pointing at cold sky (e.g. 12°) and masthead mounted low noise pre-amps are essential, with AU you are pointing at warm ground (300°) and pre-amps are less helpfull. Still you have to overcome the noise added by warm lossy coax between your antenna and the receiver and so pre-amps are helpful at 220MHz and above.

6m: The doppler is 500-1000Hz. This is within a normal PH bandpass and you can find the signal as if there was no doppler. Frequency spreading is minimal and PH is workable.

2m: The doppler is higher. If you're listening for replies to your CQ, usually they'll be in your receiver passband. PH is difficult, when there is no tone, but still usable. You can get several CW contacts in the time taken for a PH contact on an aurora with no tone.

220MHz: The doppler will shift a reply out of the passband of the receiver. If you're replying to a CQ, don't reply on the received frequency - you already know that it will be out of the caller's passband. You call with 1KHz offset (pick either high or low since you don't know which). If you're lucky you'll get the right direction. If they don't come back, try the other direction of offset.

432MHz: The Kindex needs to be relatively high (>6 in Maryland, 50°N magnetic latitude) or you'll waste your time. The doppler shift is about 5KHz. The receiving person will have to transmit with an offset and the calling person will have to tune to find replies.

903MHz: The doppler is about 10KHz. There's been only 1 AU contact on this band and the signal sounded like a change in the noise floor of the receiver.

(C) Joseph Mack 2000-2002, Joe NA3T, jmack (at) wm7d (dot) net, http://www.wm7d.net/azproj.shtml