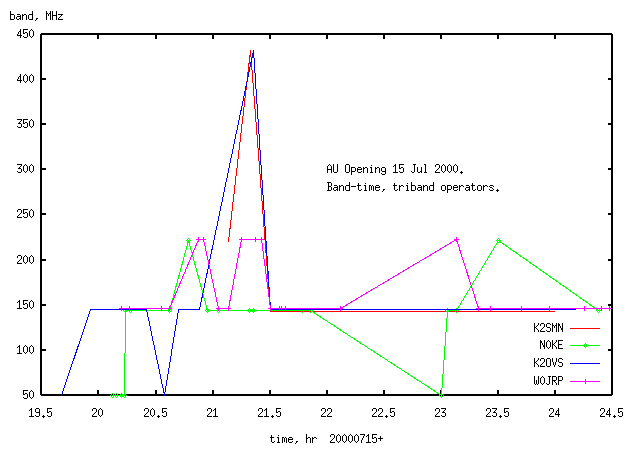 To see if operators "ran bands" I looked in each log to see if the ham worked after a band change had just been worked on a lower band. For 7 of the 8 logs (K1TEO, W4DEX, N2BJ, K2SMN, K2OVS, W0JRP, KB8U) the hams worked after a bandchange were all new calls.
Only N0KE (on CW) re-worked 3 stations within 10minutes following an upband change. 2 of these stations were consecutive contacts on 2 bands indicating that they were "running bands". The band change was from 6m to 2m with path distances of 300-600km. W3ZZ (unsuccessfully) tried to get W7XU to move up with him from 2m to 222.
W4MW tried (unsuccessfully) for a 903MHz contact.
No-one successfully arranged contacts on 222 or 432 from QSOs on lower bands. None of these operators worked multiple bands simultaneously, they stay on one band for long periods and then change to another band and stay there for a while. Apparently running bands doesn't work (or isn't tried) on AU.
Some operators sit on a band for quite some time without making a contact. W0JRP appears to have moved from 2m to 222 at 2200 and didn't get a contact for an hour and then moved back immediatedly to 2m. K1TEO waits for an hour after his 432 contact before returning to 2m. There were 37 band changes amongst 7 operators spread out over 5hrs, or 1 change/hr for each operator.
Here is the distribution of time spent on a new band before getting a contact (measured by the time since the last contact on the previous band) and the time between band changes bands (measured by time since first contact on the previous band).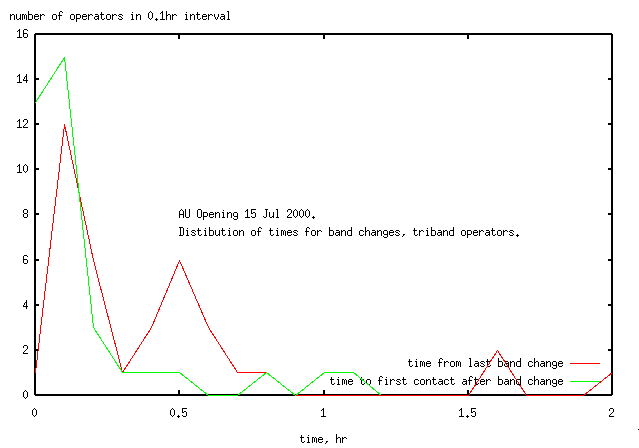 The most frequent interval for getting a contact after changing bands is 0.1-0.2hr.

(C) Joseph Mack 2000-2002, Joe NA3T jmack (at) wm7d (dot) net, http://www.wm7d.net/azproj.shtml

Previous Next Table of Contents